VICE PRESIDENT INONGE MUTUKWA WINA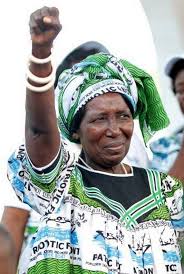 Zambia's newly elected leader Edgar Lungu has appointed Inonge Wina as the first female Vice President. Inonge Mutukwa Wina was born April 2, 1941 to Mr. Siwinji Mutukwa and Princess Mutende Lubasi in Suibumbu Village in Senanga. Wina attended primary school in Senanga, at the Barotse National School in Mongu. She eventually completed her high school education at Santa Monica High School in Los Angeles, California. While there she obtained a diploma in social works at Santa Monica City College. She also completed a Bachelor of Arts degree in History and Sociology when the University of Zambia first opened.
Inonge Wina was appointed the Minister of Chiefs and Traditional Affairs from 2011 to 2012 before being moved to be Minister of Gender and Child Development under President Micheal Sata from 2012- 2015.
She was married to the late Arthur Nutuluti Lubinda Wina with whom she had two sons and one daughter.
EDGAR LUNGU INAUGURATION SPEECH
I greet you all in the name of our Lord and saviour , the Sovereign King of our land Jesus Christ. It is with great humility and tremendous joy that I stand before you today. After months of long nights and labour us campaigns.
Firstly, let me acknowledge the efforts of allmy opponents, specifically I salute the
president of UPND. Congratulations MRHAKAINDE HICHILEMA! Sir, you gave me agood run for this office, you put up a goodfight. Hats off.
While some may see today as an end to a longjourney of a struggle for continuity in development , I see today as a beginning of along period for reconciliation and peace building. It will be folly for any of us to pretend that all is well after such a closely contested election. A lot of hopes were squash ed , emotions invested were hurt, hearts were broken and indeed in the end some lost more than they gained. It isdemocracy, it is the price for a democratic dispensation.
That is why our new constitution must beenacted much sooner than later, we need toprevent the events of this election from ever happening again: the narrow losses or winsand the costly by-elections themselves. Inshort, we need to have a constitution be fitting the democratically advanced Zambia of today. My government will give you the constitution you want before the next general elections in 2016. You have the road map. It could havebeen stolen but it is still your roadmap. Next week I will be announcing my new cabinet. Our main task in the next few months will be to stabilize our economy and work towards completing what we started. We want to employ more people, reduce further the fuel prices, ensure farmers are supported with what they need to have a bountiful harvest this season; allow universities to offer highest standard of education; ensure hospitals being built are completed, complete structural development programmes, strategize on servicing our debts, create more jobs and weather for the people, manage our resources more responsibly and empower more young people to participate in our economy .
I also wish to introduce a new policy and governance dialogue that will happen weekly. Every week, I and one cabinet minister will meet with the press to discuss that particular ministry and the work that we need to do as government . I told you that I was a man of the people, and that I will listen to you more. I believe that this dialogue entitled 'Katwamba' will keep me in touch with the people and allow me to listen to you all and talk to you as your servant.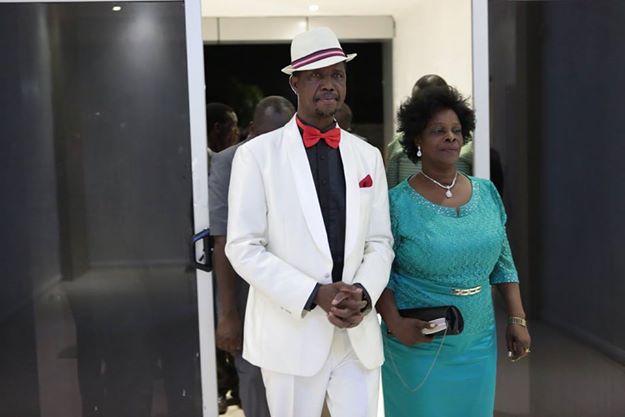 I have learned a lot of things during this campaign and I will be seeking audience with some of my progressive counterparts in the opposition. Colleagues like Ms Nawakwi, who maintained a clean campaign and did not reduce herself to the low levels of others who were too proud to trust the electoral process. Indeed, I heard you when you condemned some decisions we have made over the few years in power. I heard all of you. I apologize for not being on the debate, but if I did come to that debate, I wouldn't have gotten some of the votes I got, and that was a risk I could not take-it paid off. Because some of the votes from some provinces were heart wrecking.
My government is determined, now more than ever to uproot every inch of tribalism and nepotism from our government. I shall re-look at our foreign diplomatic servants in missions and make sure that everyone we send out is qualified for the task. No chibululu pa nchito.
Although my leadership is not one of witch hunting, I will let the law take its course to ensure that those who owe you money through taxes pay you back! I will not interfere with that. I told you during campaigns, tulefwaya impiya shesu.
Fellow Zambians, children of the most high God, I want to say thanks to many of you who voted and even those who did not whether by choice or circumstance. I want to thank the people of all provinces especially those who did not have faith in me, I am here to prove you wrong and show you that sometimes even the least of servants can be used to bring glory to the republic by God.
I am extending a hand of peace to all party members of the PF who did not join us on this vision, but if need be I am asking them to leave the party and leave us who want to work, to work. Seleni tubombeko bane. This election has given the PF a wake up call, that in order to govern we must all work together. I admit that our results would have been more in our favor if we had our house in order earlier than we did. And so I thank all leaders in the PF who decided to go with the will of the people to have me as the president of the party and of the country. I will not let you down. I thank Dr Guy Scott, for his leadership in government during this period, and all MPs who worked so hard to give us votes. Not forgetting my well able campaign team. In little time you delivered
much!
But more importantly, thank you our people of Zambia. You the people have won this election. Like Namoya Likau in the remote part of the country, who has never seen a tarred road before, used to travel many kilometers to take her child to the hospital, did not have money for her family upkeep; she has won today because the PF she saw bring roads to the her village, build hospitals and schools and give her cash transfers; that PF she saw and voted for today is still in government. To deliver!
Let me thank the Electoral Commission of Zambia through its gallant chairperson Justice Ireen Mambilima for maintaining their integrity and upholding the confidence of Zambians. It was not easy we know, but again you have outdone yourselves.
In the course of this year, we will be proposing a bill in parliament that will allow
the ECZ to be more independent and financially viable to conduct its business. We want the commission to explore modern technologies for conducting elections; we want it to have enough funds to raise awareness and reach more people of Zambia. And we do not want it to have interference from
politicians.
My speech would be incomplete if I did not honor the man whose steps I have the huge privilege to follow; and without whom this victory would not have been possible. My father, mentor, leader, friend. His Excellency Michael Chilufya Sata. I cannot fit in his shoes, and I will not even attempt to. I will simply remember your counsel, follow your vision and dreams, and indeed uphold your legacy. My president.
MY NAME IS EDGAR CHAGWA LUNGU AND I ACCEPT MY ELECTION TO OFFICE AS THE 6TH PRESIDENT OF THE REPUBLIC OF ZAMBIA.
God bless you all
EBOLA
The Ebola virus consumed the news in 2014 especially in West Africa. Sierra Leone, Liberia and Guinea. Senegal, Nigeria, Spain and the United States managed to safely contain the virus. Another outbreak of the Ebola virus was reported in the Boende District, Democratic Republic of the Congo (DRC). The virus is of the Zaire Ebola species, which is common in the DRC. The virology results and epidemiological findings indicate no connection to the current epidemic in West Africa. This is the country's seventh Ebola outbreak since 1976.
#BRING BACK OUR GIRLS
On April 14th, more than 270 school girls were kidnapped from the Chibok Government Secondary School by Boko Haram Terrorists in Nigeria. More than 230 are still missing. Despite the media campaign to raise awareness of the missing girls the Nigerian government has not been able to rescue the girls. Some speculate that they could have been sold as child brides in neighboring countries.
EMMERSON MNANGAGWA/ JOICE MUJURU
Despite vicious infighting Emmerson Mnangagwa succeeded in becoming Zimbabwe's Vice President by dethroning Joice Mujuru. Mnangagwa who was recently chosen as Vice President of the Republic of Zimbabwe will most likely succeed Robert Mugabe. Mnangagwa will have a taste of the Presidency for at least a month as Mugabe goes on leave until January 2015. He takes over the Vice Presidency after bitter infighting in ZANU-PF that has resulted in all loyalists to Joice Mujuru losing their party and cabinet posts.
BBC DOCUMENTARY ON RWANDA GENOCIDE
According to the new documentary, Paul Kagame is not the liberator that he claims to have been but a selfish man in search of political power who was not concerned about how many people actually died in his pursuit of power. The mainstream story of the 1994 genocide fits into the narrative that his western backers former Prime Minister Tony Blair and Former President Bill Clinton use in their praise of him. Three Rwandan Patriotic Front (RPF) informants claim that American trained Paul Kagame was the mastermind in the shooting down of the plane that killed the Presidents of Rwanda and Burundi, which then triggered the mass killings. Featured in the documentary are two American academics from the University of Michigan who traveled to Rwanda to better understand the genocide. They believe that most Tutsis were already dead by the time the RPF marched in to takeover power. This contrasts with Paul Kagame's story of him as the 'savior' that helped to end the genocide. The RPF is accused of killing fleeing Hutus and Tutsis indiscriminately as they approached the capital. In addition, there is evidence that the United Nations (UN), United Kingdom (UK) and United States (US)  suppressed a report that showed the RPF killed 30,000 Hutus in one part of the country. Kagame is also accused of being responsible for the killing of 5 million Hutu and Tutsi refugees in neighboring Democratic Republic of the Congo (DRC) who had fled during the genocide.
ALIA ATKINSON
Alia Atkinson made history in swimming. 25 year old Alia was the first black woman to win a World Swimming Title. Alia broke the record at the FINA World Swimming Championships (25m) in Doha, Qatar in 1 minute and 2.36 seconds for the 100m breaststroke. This was Jamaica's first-ever gold at the World Short Course Championships.
MICHAEL BROWN
The Ferguson, Missouri teenager was shot by police officer Darren Wilson in controversial circumstances. Following the death of Michael Brown in Ferguson, Missouri riots and protests erupted that highlighted injustices in the American criminal justice system. Protests against police brutality continue in several US cities as mostly minorities attempt to seek justice.
REEVA STEENKAMP & OSCAR PISTORIUS
The blade runner, Oscar Pistorius was put on trial and sentenced in the death of his girlfriend Reeva Steenkamp. On 12 September, Pistorius was found guilty of culpable homicide and one firearm-related charge, of reckless endangerment related to discharging a firearm in a restaurant. He was found not guilty of two firearm-related charges relating to illegal possession of ammunition and firing a firearm through the sunroof of a car. He was found guilty of culpable homicide and sentenced to five years in prison. The prosecution is currently appealing the verdict.
NIGERIAN PROFESSOR FRANCISCA OKEKE
Internationally acclaimed Professor of Physics Francisca Okeke is the first woman to serve as Dean of Physical Sciences at University of Nigeria. She received the L'Oreal-UNESCO for Women in Science Award for her significant contributions to the understanding of daily variations of the ion currents in the upper atmosphere which may further our understanding of climate change.
FAITH SAKWE & GOODLUCK JONATHAN
This year Nigeria celebrated becoming the biggest economy in Africa and also the wedding of President Goodluck Jonathan's daughter. On April 12, 2014, Nigeria's first daughter, Faith Sakwe wed Godswill Osim Edward. Faith is the first daughter of Nigeria's current President Goodluck Jonathan and First Lady Patience. The church wedding was preceded by a traditional ceremony, engagement party and bridal shower. Following the church wedding was a reception for the guests and a Sunday service to complete the nuptials. All wedding related parties were well attended by the political élite, celebrities and all the who's who of Nigeria. In true Nigerian flamboyance, the wedding dress featured a cathedral length train, 9 tier embellished wedding cake with Nigeria's colors white and green, and thousands of distinguished guests. Below are a few pictures that highlight the joyous moments of the joining of their union.
BONA MUGABE'S/ GRACE MUGABE
Zimbabwe's first Lady is famous for conducting a cross country tour that brought down the former VP Joice Mujuru. However, earlier this year Zimbabwe was buzzing about the wedding of President Mugabe's daughter Bona to 37 year old pilot (maybe CIO agent) Simba Chikore. According to local media in Zimbabwe, the Mugabe's spent US$5 million on the wedding and preparations leading up to it. However, from looking at the pictures released by the Sunday Mail, Herald and Lusaka Times, nothing about the wedding indicated millions of dollars had been spent. Perhaps Grace Mugabe should have spent more time planning for a good wedding for her daughter. Read more
12 YEARS A SLAVE- BEST MOVIE OF THE YEAR
12 Years A Slave, the movie won the Oscar for Best Picture in 2014. The unity of black people from different backgrounds created a wonderful masterpiece that has become the most celebrated movie of the year. Director Steve McQueen is British but was born to parents from Grenada and Trinidad. The screenwriter John Ridley (Winner: Best Adapted Screenplay) is American, Lead Actor Chiwetel Ijiofor (Best Actor Nominee) is British but born to Nigerian parents, Lupita Nyong'o (Winner: Best Supporting Actress) is Kenyan and Alfre Woodard also an American.
JEAN GASHO/ WALTER MASOCHA
The young woman made history among Zimbabweans in the diaspora this year for helping to expose Pastor Walter Masocha as a sexual deviant, thief, manipulator, liar etc. Through her blog, http://hewasmydaddy.blogspot.com/ Jean exposed the open secrets of Agape for All Nations Church and its leader and their many misdemeanors. Walter Masocha is currently awaiting trial in Scotland.
CATHERINE SAMBA PANZA
The Mayor of Bangui Catherine Samba-Panza was appointed interim President for the Central African Republic in 2014. The 59 year old was chosen as the first woman to lead the country for until elections can be held. Her election came at a time when CAR sought to end the bloody clashes between Christians and Muslims. She had been Mayor of Bangui since 2012. Samba-Panza is a christian but was viewed as politically neutral in the religiously charged environment.