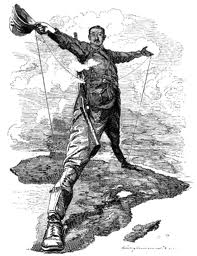 THE ROLE OF MISSIONARIES
European missionaries especially from Portugal, France, Britain, and Germany went to Africa under the premise of going to convert the locals to Christianity. However, they actually aided in the colonization of Africans by Europeans. In many cases Christian conversion looked more like European Capitalist conversion.
Robert Moffat, a famous missionary wrote about Mzilikazi and the Ndebele (Zimbabwe) in 1857, "His government, is one of tyranny and intrigue, lies and blood. I feel melancholy…. I often feel willing to suffer anything or die any kind of death it fit would only result in the moral renovation of the Matabele, their deliverance from their present awfully degraded condition."
Missionaries came with the attitude that all things European were superior to all things African. Most missionaries like David Livingstone and Fabri of the German Missionary Society in Namibia believed that once Africans were colonized by European countries they would be more likely to seek after Western Education and Christianity which the missionaries controlled. It was their mission to do anything necessary to convert Africans who were viewed as uncivilized and barbaric. Missionaries often failed to distinguish between Christian principles and those of the colonialists. They misused biblical passages to further the causes of their colonial friends.

The message preached by Missionaries encouraged Africans to rebel against everything that formed the foundation of African family and society. They even preached that salvation could only be obtained through formal work which meant one had to earn a paycheck. The only people who paid for labor at the time were Europeans colonialists. Most missionaries new to Africa believed Africans were lazy and were not using their land adequately so it was in their best interest for Europeans to use it. Some missionaries had developed friendships with local clans and used this to further European causes. Often African chiefs sought advice from missionaries on how to deal with other Europeans seeking treaties. However, the missionaries almost always betrayed their trust.
The question therefore remains if the missionaries' views towards Africans were so negative how could they have been any benefit to Africans? In essence colonialism was partly a result of betrayal by missionaries. Even though we are grateful that they educated Africans and opened clinics in the most remote villages we cannot forget that their motives were impure and their actions very detrimental to African society.
It is amazing that Britannica describes Robert Moffat as, "Scottish missionary to Africa and Bible translator, who was known for his efforts to improve local living standards in Africa. He was also the father-in-law of the missionary and explorer David Livingstone (1813–73)." Improving local living standards to them means he aided Europeans in taking land that belonged to Africans and then forcing them to work for a living so that they would pay taxes for things that never benefited them.